2022-05-15


Entreprenerd Book Sales

Today is the first anniversary of the book release of my book Entreprenerd, Building a Multi-Million-Dollar Business with Open Source Software.

Last month, I wrote that March 2022 was the worst month in terms of sales. Now I can write that April 2022 was the best month. One glance at the overview of monthly sales is sufficient to understand what happened: I was asked as a speaker at an event and the organization decided to offer a paperback copy of my book to every attendee. This resulted in the sale of 200 copies at once.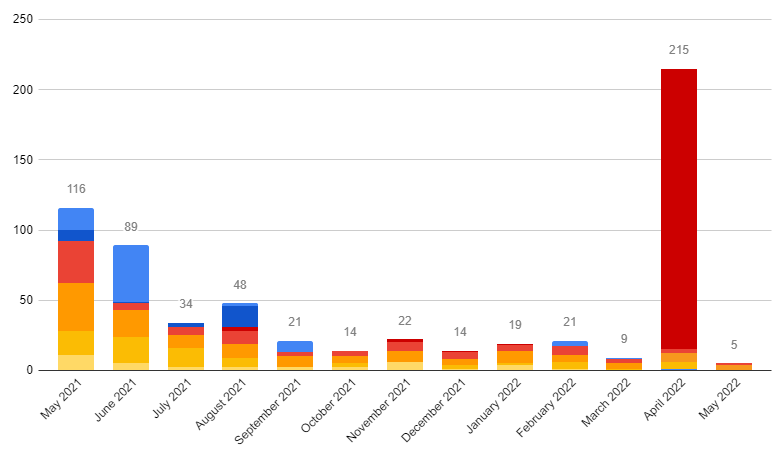 Obviously, this completely changed the distribution "hardcover versus paperback versus eBook". I have now sold a total of 627 copies: 98 hardcovers, 237 eBooks, and 292 paperbacks.
Sales through Amazon dropped from 48.2% to 33.5% of all my sales.
Personal sales increased from 8.3% to 37.3%.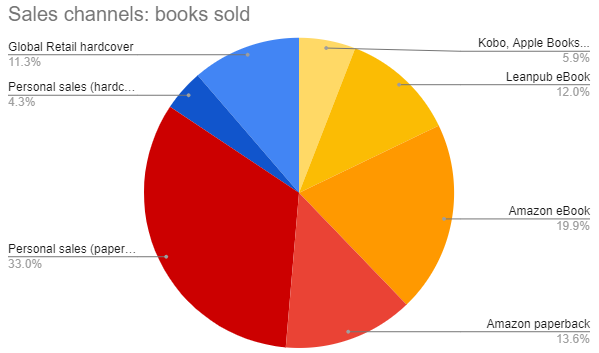 Because the organization that asked me as a speaker bought 200 copies at once, I gave them a significant reduction. This is reflected in the difference between the percentage of paperback sales in terms of number of copies (33.0%) versus the percentage in terms of royalty revenue (31.6%).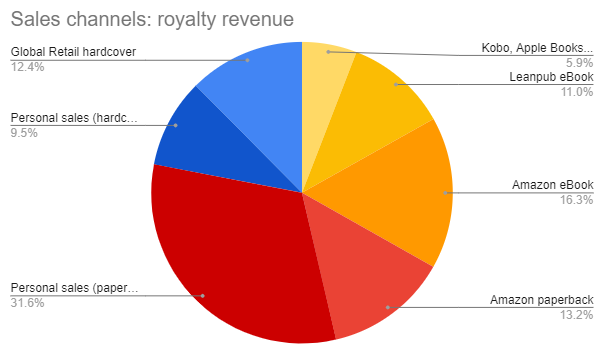 Despite this reduction, I still made 5.89 euro in royalties on each copy.
Last month, I also announced a price increase for the paper copy when sold online. You can already see the result of this price increase when you look at May 2022.

The total royalty revenue is now 3,881.89 euro. As explained before, this is a result calculated using fixed exchange rates. I didn't take into account that I now get more euros for my dollars.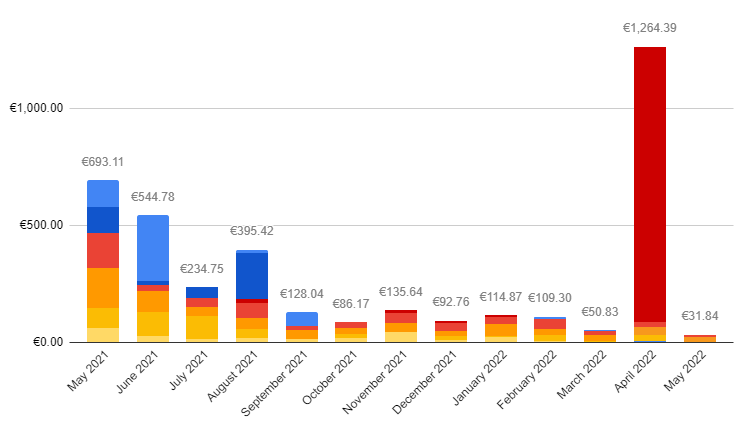 I am still a couple of thousands of euros away from break-even. This is an overview of the money I spent to create the book:
Copy Editor: 958 euro
Legal Review: 3,201 euro
Photographer: 200 euro
Cover Design + Blurb: 110 euro
Typesetting: 927 euro
Proofreading: 985 euro
The grand total is 6,381 euro, which means that I am still about 2,500 euro away from breaking even. Note that I am not counting the cost of the hours I spent writing the book. Fortunately, I don't have to worry about that ;-)