2021-03-04


Marketing "Entreprenerd"

Now that the legal review of the Entreprenerd manuscript is done, typesetting can start. If all goes well, proofreading will start in the third week of March; the company I hired to do this expects that this will take two weeks, including fixing the typesetted version if any typos are found. This is the phase in the publishing process I like the least as an author. My own creative work on the book is done, but now I have to wait for other people to do their work.

That doesn't mean I haven't done any work while the copy editor and the lawyer were reading and correcting the manuscript. I created a website for the book: entreprenerd.lowagie.com.
I'm posting news about the book on the Home page. In many cases, the news will be a short summary referring to a post on my personal blog.
When you go to the table of contents, you get a short two-sentence summary of every chapter, and a link to a page with some extra's for each chapter. I'll probably add some more content to those pages during the proofreading process. I am thinking of adding a couple of short "pop quiz" questions to some chapters. I also intend to add some "easter eggs". See for instance the page for chapter 25. When you hover over the picture with the iText staff members in February 2018 something funny happens.
I'll add quotes from readers and links to social media posts on the What Readers Say page. Currently, this page only has five quotes from people who reviewed the manuscript.
You can find Andrew Binstock's Foreword on the press kit page. Additionally, I wrote a short text about the audience I had in mind while writing the book, and I added a series of photos that can be used by people who want to write an article about Entreprenerd.
I didn't create a separate blog for the book, I just refer to my own personal blog.
On the right of the navigation bar, I added three links to social media platforms.
LinkedIn is probably the most important platform for my target audience. I created an Entreprenerd group on LinkedIn, and I ask people to join this group in the footer of each page. So far, only 7 people (myself included have joined), but we'll see how this evolves. I considered creating a mailing-list so that I would have the personal email address of each person joining the group, but eventually I decided against that idea based on my own behavior: I almost automatically throw away most of the newsletters I receive.
I also created a Twitter page for Entreprenerd, or rather, I repurposed an old Twitter page I wasn't using anymore, but that targeted an audience that is similar to the audience of my book. Because of this, the Entreprenerd Twitter account already has 5,670 followers today. We'll see how that evolves.
I never used my personal YouTube channel, but I now provided a link to my playlists. I already have a playlist with videos related to the book, and one with (old) videos related to iText. Creating a couple of promotional videos for the book is on my TODO-list for the next couple of weeks, but I need to get my wife and dog out of our home office space if I want to record a video without any background noise ;-)
Based on my initial research, part of my audience is also on Facebook and Instagram, but those are not the places where they are looking for a business book.
The site is quite new and I haven't done much promotion for it yet. Nevertheless, Google Analytics tells me that I already have 2,500 visitors (users) a week. In other words: I had on average about 350 new visitors a day last week. It's a pity I can't sell those visitors a book yet.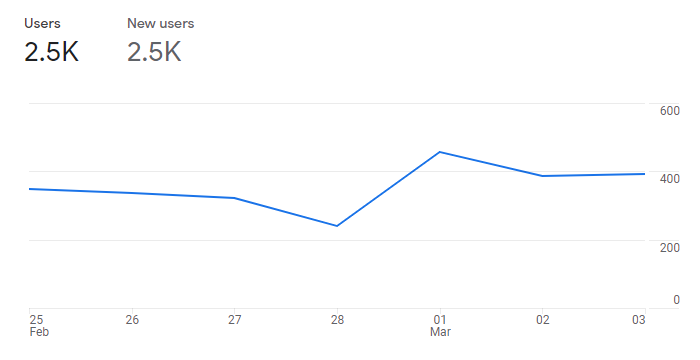 I've also done an enormous amount of work preparing an email campaign. I already have three batches of email addresses.
The first batch consists of 1,721 email addresses of people that are connected with me on LinkedIn. I used LinkedIn's export function to get a list of my connections in the form of an XLS file. Unfortunately, many people don't allow LinkedIn to share their email address in such an export. To solve this problem, I visited the personal page of each connection manually and copy/pasted the email address from the Contact Info they agreed to share with me. All these contacts will receive a mail that starts with: Did you know that we're connected on LinkedIn since ##DATE##? I'll replace ##DATE## with the actual date we connected on LinkedIn.
The second batch consists of 3,458 email addresses of VCs, Business Angels, and investors. I found different lists online. I copied those lists into one large XLS file with more than 8,000 addresses. I manually reduced that list by removing all the duplicates and throwing away addresses of low quality. For generic addresses, such as the info@ address of a business angel group, I searched for the president of the organization and I added the first and last name so that I can start every mail with For the attention of ##FIRSTNAME## ##LASTNAME##.
For the third batch, I parsed my mail boxes, extracting all the addresses of people who mailed me in the past. For now, I reduced that list to 786 addresses. I have several thousands more, but the problem is that most of those people probably don't belong to my target audience.
I uploaded all these addresses to a Google Sheets document. I then wrote code that uses the Google Sheets API to retrieve the data, fill out an HTML template, and send the resulting message to the addressee. To avoid overloading the mail server, I never send more than three mails per minute. That also allows me to tweak one or two things if something goes wrong with the first batches of mails. I expect quite some bounced mails, especially from the list with investors. As I have about 6,000 addresses, it will take several days to send all those mails (I want to do this completely unattended).
This is what my Google Sheets document looks like:

In column A, you can find an MD5 hash that I use to anonymously track how many people clicked one of the links in the mail, and how many people loaded the image inside the HTML message. I am aware that most mail clients don't load this automatically and that GMail keeps a cache of images so that people can open their mail undetected, but any metric is better than no metric at all.
Column B is empty, but it will be filled with a time stamp the moment a mail is sent. I already tried this with my test addresses. This field enables me to start and stop the process whenever I want, without risking that people receive the same mail twice on the same address.
Columns C and D contain the first and last name of the addressee; column E the company or organization this person works for; column F the email address.
Column G is used to select the template; column H is a code that indicates if the email address is a personal address (X) or a generic address (I). In the case of a generic address, the mail will start with "For the attention of ##FIRSTNAME## ##LASTNAME##" instead of "Dear ##FIRSTNAME## ##LASTNAME##". Finally, there's also a language code: E for English; N for Nederlands.
I will start with the addresses in the LinkedIn tab, because most of those are "hot leads." Those are people who know me (or are supposed to know me). Obviously, there are exceptions. Recently, I've changed my policy regarding accepting invitations sent by people I don't know. The disadvantage is that most of those are trying to sell me something I don't need; the advantage is that I can try selling them my book whenever that happens. For now, I haven't been successful with such people. That's a pity, because I honestly believe they could use my book to understand what goes on in the mind of a technical founder.
Once all the LinkedIn mails are sent, I'll continue with the Investors tab. I chose this target audience based on the sales of the Dutch version of my book. A couple of weeks ago, a business angel bought that book and less than a week later, he said: "I've read your book, and I'd like to order half a dozen more to give to the founders of the companies I invested in."
I am hoping for two things by targeting investors:
I hope that they'll be interested in reading my book, and
I hope that they'll invite my to talk at their events once traveling is allowed again.
We'll see if my expectations are met. Looking at the sales of the Dutch version of my book, I see that the largest segment of buyers consists of VCs, business angels and investors. Let's hope this will also be the case for the English version.
Once all the Investor-mails are sent, I'll switch to the Various tab. I still need to think if and how I'll prioritize those mails. As I explained I could put thousands of mails in that tab, but not all of those addresses have equal priority.
You've probably noticed that I also have a Journalists tab. Currently, there are only four addresses in that tab. I'm still considering whether I'll try compiling a large list and automate the mails I send to the press, or address a small selection of journalists personally. One doesn't exclude the other, but I'm still investigating who should make which list when looking for press coverage. I'll make that decision once I receive the typesetted version of the manuscript. I guess journalist will want a preview before the book is actually released.