2019-09-25


Twee eervolle vermeldingen

Woohoo! Ik heb weer twee eervolle vermeldingen op zak, eentje in een Vlaamse wedstrijd en eentje in een Australische wedstrijd.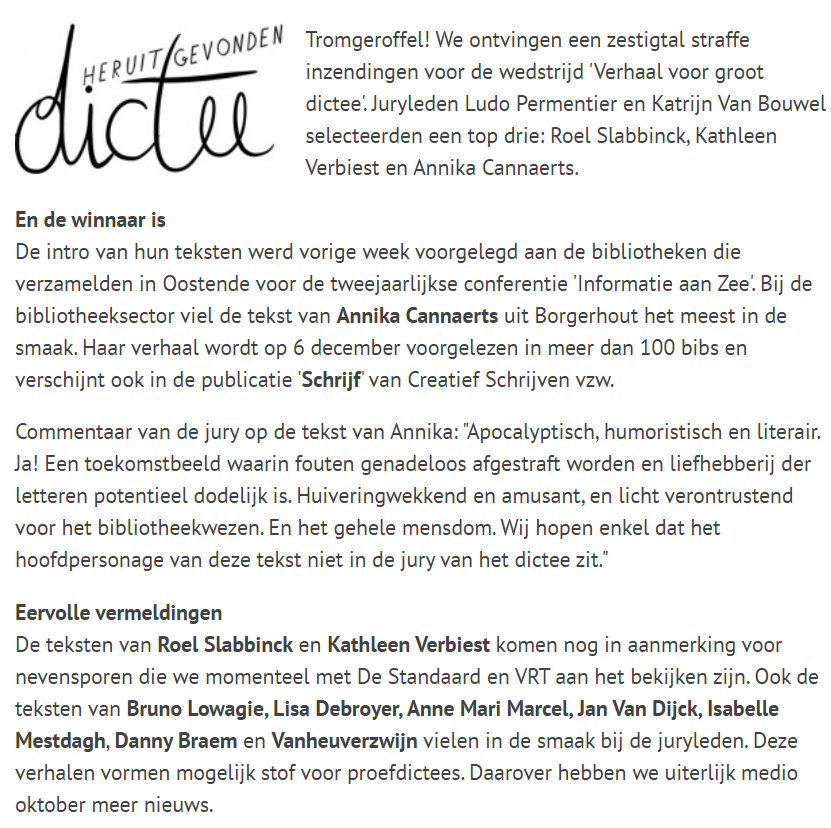 Ik kan het verhaal nog niet publiceren omdat het misschien nog zal gebruikt worden voor proefdictees, maar ik heb het al opgenomen in een tweede verhalenbundel die de opvolger zal worden van Oceaanwees.
Ik doe nu al 7 maanden mee met Furious Fiction, een wedstrijd waarbij je 55 uur krijgt om een verhaal te schrijven van 500 woorden dat aan heel strikte voorwaarden voldoet. Dat is best een hele uitdaging, want het Engels is niet mijn moedertaal en elke maand doen honderden schrijvers van overal ter wereld mee aan de wedstrijd. Deze maand slaagde ik erin om met mijn zevende poging de long-list te halen: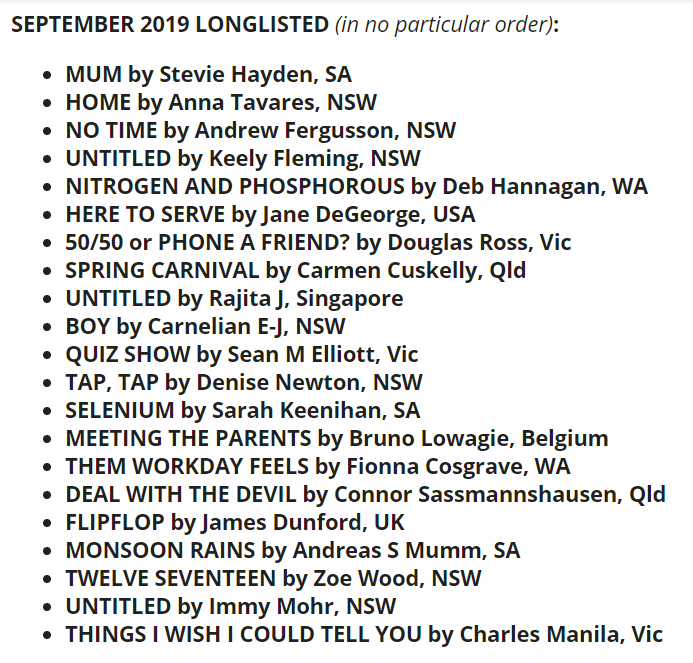 Mijn verhaal won helaas niet de hoofdprijs en het was ook net niet goed genoeg voor publicatie op de site van het Australian Writers' Centre, maar het is toch een hele opsteker en het stimuleert om te blijven deelnemen aan de wedstrijd.
Dit was de bewuste septemberopdracht:
Your story must include the name of at least ONE element from the periodic table.
Your story's first and last words must begin with S.
Your story must contain the words TRAFFIC, JOWLS and HIDDEN.
And finally, your story must include something that BUZZES.
Het gebeurt niet veel dat ik tegen een Furious Fiction opdracht opzie, maar in dit geval heb ik toch even moeten slikken, want ik vond het deze keer geen gemakkelijke. Dit was wat ik ervan maakte:
Meeting the parents
"Stuck in traffic," the text message said.
"Stuck with your parents," I replied.
"Sorry, I'll make it up to you," Jonathan texted back.
"Is that Jonathan, Miranda dear?" Jonathan's mother asked.
"Yes, Mrs. Williams, he'll be here any minute now."
Mr. Williams shook his head in disapproval, his sagging jowls trembling.
"That boy has been a constant disappointment," he complained to his wife.
"He didn't even manage to get born on time," Mrs. Williams confided to me.
The buzzer went off before I could defend their son against such demeaning words.
"There's a table ready for us," I explained.
"His choice of restaurants is as bad as his taste in women," Mr. Williams whispered to his wife, loud enough for me to overhear.
"I bet you a nickel their relationship won't last," Mrs. Williams chuckled, her double chins jiggling up and down.
Mr. Williams grinned in agreement.
I finally understood why Jonathan had kept our relationship a secret for his parents for so long. I always thought Jonathan was exaggerating when he described how awful they were. These were not the type of grandparents I had in mind for the baby I was carrying. Mr. and Mrs. Williams were as ugly on the inside as they were on the outside. I started to believe Jonathan had been switched at birth.
"Well, here we are then," said Jonathan's father after they were seated, "We already suspected Jonathan had a girlfriend hidden somewhere, but he never wanted to admit it."
"Looking at you, we can guess why," Mrs. Williams said without a hint of shame in her voice.
"Not everyone can afford Dior, Georgina," her husband hushed her gently.
"Tell me, Miranda dear, what do you do for a living?" his wife continued, ignoring her husband.
"I'm a hired gun, Mrs. Williams."
"What does that mean, Norman?" asked Mrs. Williams, "I've never heard of such a profession."
"I think it means she kills for money," her husband gasped.
"I kill, that's true," I laughed, "but not always for money."
―
"I thought you were going to give them a chance?" Jonathan said.
"A girl has the right to change her mind," I answered.
"How did you do it?"
"I killed your mother with the silverware; I choked your father with a sausage."
"Wow, you really overdid yourself this time," Jonathan said in awe.
"What can I say? They looked like people who deserved to go in style, but what really triggered me was their subtlety."
Blijkbaar was dit goed genoeg voor een eervolle vermelding. Joepie!